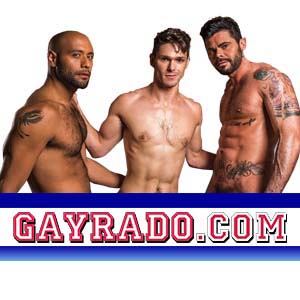 Are you at least 18 years old?
You must verify that you are 18 years of age or older to enter this site.
The Hand That Fists You DVD (Raging Stallion Fetish & Fisting)

Your data is safe!

We ship world-wide!

Your right to return!
It explores deeply, stretches you to the max and finally satisfies even the most demanding. This collection of eager, open holes submit to the ultimate internal contact - a clenched hand that enters in punishing fashion again and again. Working both sides of the camera, director Tony Buff pushes these studs (and himself) to the limits and tests just how much they can take and give. Enjoy four penetrating, powerful exhibitions of men willing to cross onto another plane of sexual pleasure and physical connection. Tony takes long and slow strokes into the black velvet body of Race Cooper, for whom a fist in his ass is almost anesthesia. Then Brian Bonds and Ben Reyes flip-fist each other in back-to-back scenes, offering the erotic contrast of a furry redhead with a smooth, olive-skinned Latino. Down and dirty, piggy and extreme Boyhous and Champ deliver grit, fur and sweat, bringing Boyhous' rose to bloom again and again for the camera.
Running Time: 98 min.
Starring: Race Cooper, Tony Buff, Boyhous, Brian Bonda, Champ, Ben Reyes
Director: Tony Buff
Studio: Raging Stallion Fetish & Fisting
Categories: DVDs & Media, DVDs, Fetish, Fisting, Nationalities / Ethnic Groups, Multi-ethnic, Real Men, Hairy Men, Exclusive DVDs